Did you know that Diagraph now has 2 versions of the GPX Classic Marker?
Posted on July 5th, 2017 at 8:00am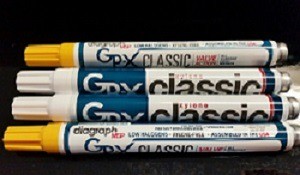 Diagraph has now given our customers a choice. We now have the GPX Classic Markers available in both xylene and xylene-free. The xylene-free marker reduces user health risks and is available in 13 weather and fade resistant colors. These Valve-Action markers allow control of paint flow, while keeping the paint in the barrel, and prevents drying-out when the cap is left off. They are great for marking on metal, wood, corrugated, rubber, plastic and other hard to mark surfaces. GPX Classic xylene-free markers are California Proposition 65 compliant, GHS, and the black and white colors meet nuclear spec RDT-F7-3t, rev 5.1. The GPX Classic xylene-free have low chlorides with halogen levels below 200 ppm for all colors.
From Manual to Automatic Stenciling: A Brief History
Posted on June 1, 2017 at 9:15am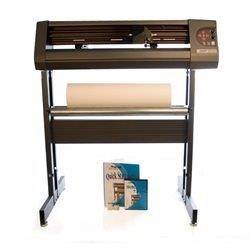 It all started in 1893, when Andrew Jackson Bradley saw cargo arriving on boats and trains being hand addressed. To make the product identification easier to read and see from a distance, he invented the stencil cutting machine. Today companies need to ensure their products can be clearly identified by product/job numbers and even with a company logo for a variety tracking purposes.
Diagraph MSP offers the SC-5 Electronic Stencil Machine for easy stenciling marking on your product.
Without extensive training and complicated manuals, anyone can easily navigate the operation of the SC-5 Stencil Machine. The keyboard is uncomplicated, if the operator is familiar with a basic word processing program.
The CAD based software and ability to import customized files from other CAD software, makes set up quick and easy. If the user is not familiar with CAD programs, the software is easy to navigate without much effort giving the operator endless options.
A wide variety of design options are available at the touch of a finger, ranging from basic to elaborate, and the finished stencils are precise and impressive. The SC-5 Electronic Stencil Machine can cut stencils ranging from 1/4" to 24" size or larger, a wide variety that manual machine cannot accommodate.
The SC-5 can cut a variety of material from stencil board, ultra-cut, vinyl and more. It also operates at a relatively low noise level, and is surprisingly compact considering the cutting width possibility.
7 Ways Automark 2018P Paint Markers Stand Out in the Automotive Manufacturing Industry
Posted on April 5, 2017 at 10:45am
Diagraph continually focuses on the changing markets and needs for our customers. Our Automark 2018P marker has a xylene free formula and is the answer for a safer marker that can still mark in a challenging industrial environment. Many of our customers have been impressed with the quality and dependability of this marker. Below are some of the exciting facts about our newly redesigned marker.
Available in 9 colors
Dries in 20 to 30 seconds
GHS Compliant
Composed of 60%-80% renewable resources
Low Halogen Levels (below 250 ppm for all colors)
Replaceable Tips
Black and White Meet Nuclear Specs RDT-F7_MT, rev. 5.1
When you've got work to do, there is no better industrial paint marker than the Automark 2018P by Diagraph. The valve action design and replaceable tip is engineered to tackle your marking needs, designed for the automotive assembly line, there is nothing faster, tougher or better.
GP·X Classic Markers: Make Your Mark in a Broader Spectrum of Color
Posted on August 10, 2012 at 3:07pm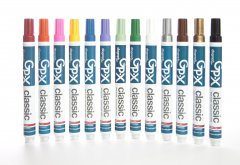 Different industries often present unique challenges and requirements, even when it comes to something as simple as a paint marker. In an effort to meet these ever-changing needs, Diagraph MSP has released their original GP-X Classic marker in five vibrant new colors: Fluorescent Pink, Light Green, Purple, Brown, and Gold. Lighter and brighter colors are great for dark metals, castings, and heavily rusted or corroded materials, where the darker ones are easily visible on lighter materials such as aluminum and plastics. A variety of customers have already embraced these new colors for their specific applications and praised the manufacturer for the additional choices, noting that the array of colors are easily identifiable, even when marked next to each other on multiple surfaces.
The new markers offer the same quality features and value that industrial users have come to expect from GP-X Classic Paint Markers. From the bold, clear, long-lasting marks made on virtually any surface, to the rugged construction and replaceable tips that allow each marker to last as long as the paint does; everyone loves GP-X. When faced with a challenging industrial environment, GP-X Classic markers are up to the task with quality, reliable marking. Now with five new color choices that meet practically any need, the only decision you have to make is, what color.
Our Markers Make An Artisitic Impression
Posted on November 8, 2011 at 2:08pm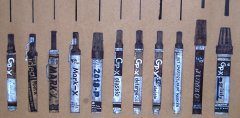 Diagraph MSP is now a potential part of history!
Allister Lee is a talented and successful graphic artist and owner of Studio B.I.B. ("Black Is Beautiful") in Toronto Canada. As a commercial artist he has done work with several major apparel and retail companies including Adidas, MHI, Mishka, Nike, Staple, Stussy and Supreme. Lee's side project though - and the one that we are now a part of - is his quest to amass the world's largest collection of unique black markers, his preferred artistic medium, which he refers to as his "Black Marker B.I.BLE". His hope is to someday be recognized for his sizeable collection by being included in the Guinness Book of World Records.
We recently sent Lee a sample of each black marker in our catalog. In turn, he not only added them to his collection, he also took the time to write an impressive review of our products for his website; indicating that two of the pens instantly claimed spots in his top 25. He also noted in a personal email that ours were " all around well designed promotional materials, and products". To thank us for the samples, he also sent back to us a beautifully hand-drawn illustration of our marker line which now hangs proudly in our conference room.
We appreciate the opportunity to work with Allister Lee and are honored to be included as a permanent part of his collection, his blog, and his portfolio.
Catalogs: Reimagined
Posted on June 17, 2011 at 4:51pm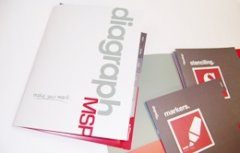 Our newly redesigned catalogs are now available!
But if you have ever seen one of our previous catalogs, prepare yourself to be impressed. This time we decided that we wanted to do more than just update a few pictures and descriptions, and instead built a whole new kind of catalog from the ground up. What we ended up with was something that better represents our new direction and puts a fresh, modern face on a more than century-old company.
For 2011, instead of a single old fashioned catalog, we created a modular system that breaks all of our product categories out into separate, tabbed mini-catalogs that fit together in a master folder. That way, if all you really want to look at is markers, all you have to look at is markers! However, the unit is at its most impressive when viewed in its entirety. In fact, the back pages of all of the individual catalogs can be assembled to form a single picture.
We believe that this new catalog system is much more customer friendly; it is easier to read and to navigate. Plus it just looks good! Contact our sales department to request your copy today and see if you don't agree.
Making Ordering Easier
Posted on February 10, 2011 at 12:11pm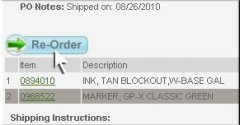 Many of our customers know about the "Quick Cart" feature in our website's shopping cart. But just in case you haven't heard: if you already know the part numbers of the items you want to order, all you have to do is type it in, along with the quantity desired, and hit the enter key or click "Add Item". It automatically places the item in your cart and advances to the next line. It is a quick and easy alternative to browsing the site for the items that you order frequently.
But recently we took it a step further. Now, once you log into the site, if you click on "View Orders" next to your login name and look at the details of any order, Open or Invoiced, you will see a blue button labeled "Re-Order". Click it once and the entire order is duplicated into a new shopping cart, regardless of how many items are there. Once all of the items are in your cart, you can change quantities, add or remove items, or just check out! It's that easy!
We hope that this new feature will help you out when you're busy and don't have time to search or browse through all of our products to find exactly what you need – or when you just need to place a nearly identical order to one you have placed in the past.
More innovations are on the way. Be sure to check back here periodically to see what's new.
Make a Splash With Our New Water-Based Marker
Posted on November 4, 2010 at 2:28pm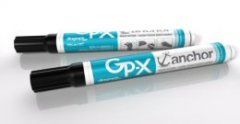 Diagraph MSP continues to make products that are safer for you and for the environment. The GP-X Anchor is our new water-based marker that is making waves. Less solvent means that it emits no air pollution or harsh chemical odor. It also means that it is not flammable and completely unregulated for all methods of shipping – even air. And believe it or not, your marks still dry in less than 60 seconds.
The revolutionary GP-X Anchor contains no Hazardous Air Pollutants (HAPs), no Proposition 65 Reportable Chemicals, is SARA 313 Compliant, CONEG/RoHS Compliant, and has VOCs less than one pound per gallon.
We are very excited to add this safe, reliable, rugged industrial marker to our already excellent line of GP-X markers. And we think you will be happy with them too.
Caring for the Community
Posted on October 25, 2010 at 10:18am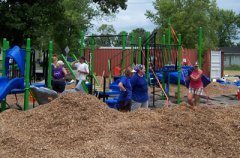 In an effort to give back to the communities that our employees call home, Diagraph MSP has formed a team of volunteers to specifically focus on hands-on service called "Caring for the Community". In addition to giving financially to the United Way, the whole company has also collected school supplies for underprivileged students, Christmas gifts for young single mothers, and living necessities for elderly shut-ins. This particular group however is geared more towards putting their commitments into action with our backs, our hands and our time - not just our donations.
We provide, cook and serve meals in the soup kitchen of a local homeless shelter once a month. We donate and fill backpacks with nutritious food and snacks for school kids through the GumDrops organization. We work with the local Senior Alliance helping senior citizens by doing yard work, building wheelchair ramps, and many other tasks they are unable to perform themselves. We even sacrificed an entire Saturday to help construct a neighborhood playground with the help of the KaBOOM organization and other local volunteers. The Caring for the Community group is always looking for other opportunities to lend a helping hand.
The people of Diagraph MSP are committed to playing a positive role where we work, live, & play – specifically through personal involvement. We want to be active in the community by contributing effort and time, as well as leading by example.
The Orange Marker gets a Fresh New Look
Posted on October 23, 2010 at 9:10am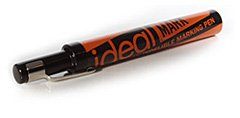 Let's face it, the legendary Ideal Mark ink marker didn't need to be changed. Why mess with perfection? So when it came time to evaluate it, we gave it fresh new redesigned look – and that's it! It is still the same great indelible ink marker that our customers have come to expect. It is still the ideal choice when you need a permanent, fade resistant ink in a rugged, all-metal, long-lasting marking pen.
When compared to other, commercially available markers, the Ideal Mark might seem a little more expensive at first. But when you take into consideration that it contains more ink, and that the industrial strength construction and replaceable tips allow you to utilize every drop - even in a variety of weather conditions, the overall value becomes evident. So we thought it deserved a more modern, yet retro design that didn't sacrifice its iconic orange barrel.
Look for the Green Icon
Posted on October 20, 2010 at 8:02am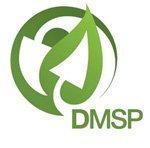 In 2010 Diagraph MSP adopted a logo – a symbol of our commitment to be more responsible citizens of the Earth. We call it our "Green Icon" and as you browse our website or print documentation you will start seeing it more and more. We have put it on those products that meet certain criteria for safety and sustainability.
Internally, we use it as the symbol for our overall green program. We have taken several steps in being a more ecologically responsible company; such as a more comprehensive recycling program, better recyclable packing materials, becoming more conservative with the amount of electricity we use, and many more. We will be highlighting more of our green efforts on this news page as we implement them, whether they are product related or internal. In the meantime be sure to look for the Green Icon!
A New Logo & A Bright Future
Posted on September 21, 2010 at 9:59am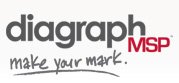 After more than 100 years of producing and distributing the world's finest marking and stenciling products, Diagraph MSP put a new face on our vision with the unveiling of a new company logo. By introducing the new design, we are starting a fresh approach and new direction to how we will market our products and company. A new logo just seemed like a logical place to start.
We wanted a logo that could better represent not only the diversity of our product line, but reflect our new emphasis on growth and expansion. At Diagraph MSP, we manufacture and distribute a wide range of products that help businesses worldwide mark and ship. From our facility in Marion Illinois, we produce everything from valve action paint markers to electronic stencil machines. Our employees also create specialized inks and everything a business would need to apply those inks, and that's just the beginning! Our new logo also accurately symbolizes the fact that we are a progressive and forward-looking company fearlessly embracing change and momentum in the marketplace.
Keep your eyes open for more fresh updated designs for existing products as well as some great new products as we continue to forge into the future here at Diagraph MSP.